Founded in 1949, St. Margaret Mary shows a willingness to work together and love one another through change and growth.
View parish history
---
Ecclesial Staff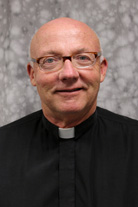 Administrator: Rev. Michael J. Miller

Parochial Vicar: Rev. Hyacinth S.O. Ibeh
Deacon John Cruz

Mass Times
Weekend Masses:
Saturday: 4:00 p.m., 6:00 p.m. (Spanish)
Sunday: 7:30 a.m. 9:00 a.m. 11:00 a.m. 1:00 p.m. (Spanish) 5:00 p.m.

Weekday Masses:
Monday - Saturday 7:00 a.m.

Devotions & Holy Days
Holy Days: Please call the parish office for Mass times.

Devotions: 24 hour Exposition of the Blessed Sacrament starting every Friday from 7:30 AM and ending on Saturday 7:30 AM

Confessions
Saturday 7:30-8:30 a.m.