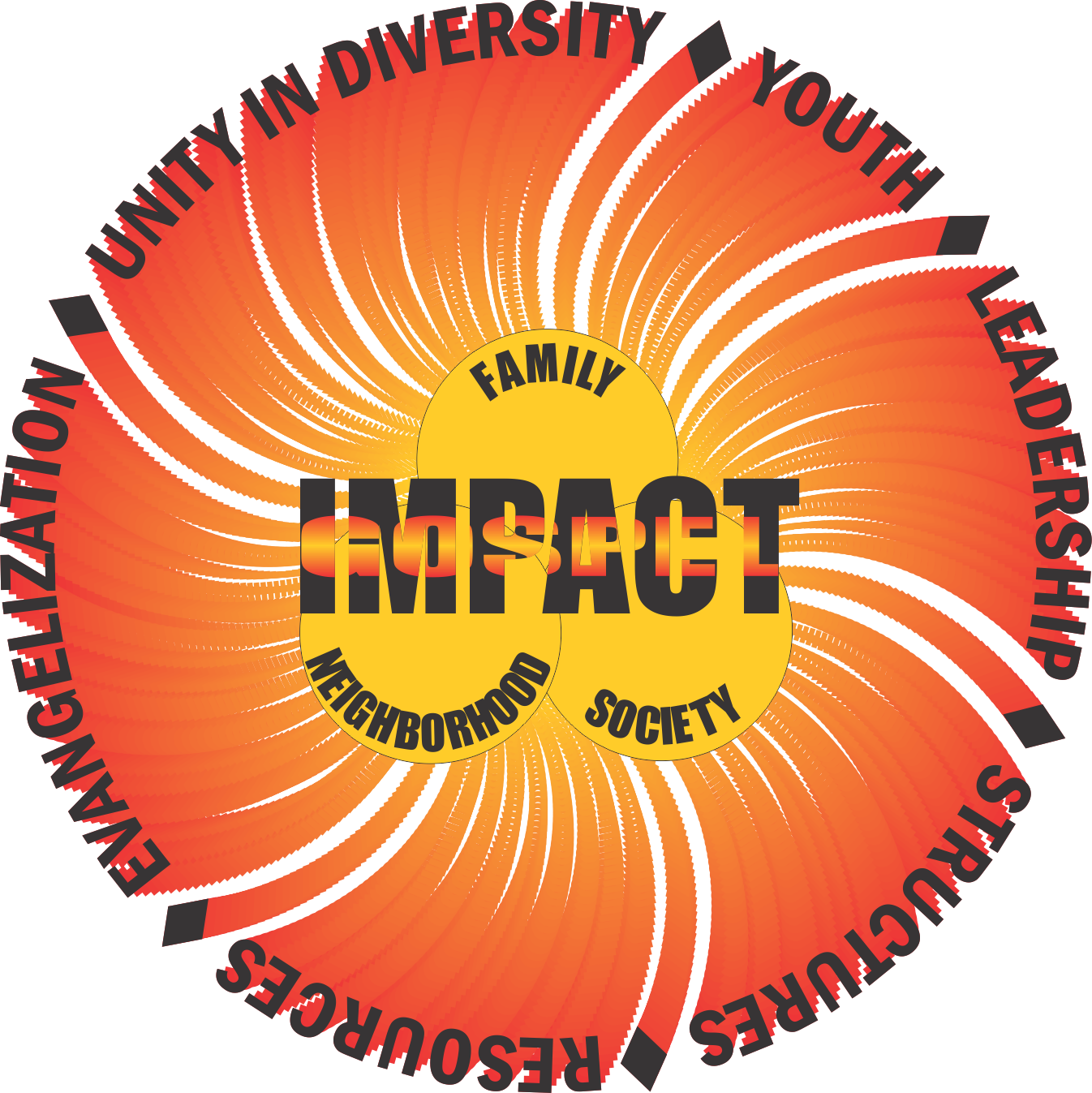 We, the church of San Bernardino, Are a community of believers in Jesus the Christ, called to impact family, neighborhood, and society with the gospel so that people's lives are filled with hope.
---
Youth
"The Lord answered me, say not, 'I am too young.' To whomever I send you, you shall go; whatever I command you, you shall speak. Have no fear before them, because I am with you to deliver you, says the Lord." (Jeremiah 1:7-8)
In the next millennium, our youth will not feel alone in their search for identity, in their quest to discover their unique place in Church and society, and in their search for God. The Church will journey with them, affirming, supporting, and challenging them to be their best selves. Our parishes will provide them with appropriate catechesis, opportunities for service, mentoring, vibrant youth liturgies and retreat experiences.
Our young people will be committed to the person of Jesus and to His gospel values. They will experience the Church as their home, a place where their concerns are heard. Filled with hope and courage, they will meet the challenges of modem day culture: drugs, apathy, gangs, violence, abortion, consumerism and the pressure to conform. They will value life. They will model for others how to live lives of nonviolent both in their hearts and in their relationships. Our young men and women will accept, understand and affirm the multicultural society in which they live. They will be filled with generosity, developing and using their gifts to build up the reign of God, and assuming positions of leadership in our parishes.
---
Evangelization
"But how can they call on him in whom they have not believed? And how can they believe in him whom they have not heard? And, how can they hear without someone to preach? And how can people preach unless they are sent?
…How beautiful are the feet of those who bring Good News!" (Rom 10:1-15)
In the next century, all in the Church of San Bemardino will be evangelizers and missionaries. We will bring the Good News of Jesus to all persons and to all the places where we live. We will carry it to our families, our parishes, our schools, our workplaces, our towns and cities, and to our contemporary culture. This means we accept the person of Jesus and grow in friendship with him. We choose to live our lives so that others recognize His spirit living within us. All of our activities and ministries will be opportunities to deepen our faith; we will work to connect all life events to the teaching of Jesus.
Persons of all cultures and ethnic groups will welcome, nurture, challenge and be challenged by each other, we will bring about renewal in our parishes by developing small faith communities and family focused Catechesis. Our Catholic schools will be centers of religious formation. Our liturgies will be vibrant and marked by a dynamic preaching of the Gospel. We will witness our faith in the Gospel through networking with the civic and ecumenical community, and by reaching out to the marginalized, alienated, and un-churched.
---
Unity in Diversity
"You are Strangers and aliens no longer. No, you are fellow citizens of the saints and members of the household of God" (Eph 2:19)
In the Third Millennium we will be a community of believers that remembers, affirms and celebrates that we are a Pentecost Church of many languages, formed from different cultures, ethnic groups and experiences of Church. We will not forget how immigrant populations enrich the diocese with new energy and talent, making present the rich spiritual values of Mexico, Central and South America, the Middle East, Asia, Africa, and the South Pacific. Together we form a Diocese already rich with the gifts of Native peoples, African Americans, and the descendants of earlier European and Hispanic immigrants. Unity in diversity means we are committed to building inclusive faith communities. This is an on-going challenge, demanding a continual conversion of heart as we put aside fear, racism, and stereotypes. Affirming the gifts of all, we encourage and empower everyone to participate in the leadership, ministry and faith life of the church community. We will be able to resolve conflict and creatively live together in our diversity, thus challenging the stereotypes of our society. The Church of San Bernardino will celebrate our ever-changing reality as a communion of communities, a mosaic of colors, a symphony of languages, a kaleidoscope of expressions of faith.
---
Stewardship of Resources
"Whoever sows sparingly will also reap sparingly, and whoever sows bountifully will also reap bountifully. For God loves a cheerful giver." (2 Cor 9:6)
In the next millennium, we will never forget that God has blesses us with an abundance of life. We understand that we are stewards. This means we are responsible and accountable to God for the gifts we have been given. We believe that in sharing our gifts, we open ourselves to a deeper relationship with God. Our challenge as a Diocese is to identify, encourage and develop our resources in a creative, productive and responsible manner. To live a life as a steward is to commit ourselves to the Church's mission with our time, talent and treasure.
As a faith community, we accept the call to be people giving the sacrificial-biblical tithe, committing our money to the work of the Gospel. Our generosity will provide the personnel and facilities necessary for pastoral services. Being mutually responsible and accountable for our gifts, we share in the Mission of Jesus Christ.
---
Leadership
"You must wash each other's feet. I have given you an example so that you may do what I have done for you. " (John: 13:14-15)
In the next century, our pastoral leadership will be comprised of laity, religious, deacons and priests who reflect the diversity of the diocese. Our gospel service will be marked by multicultural openness, faith, collaboration, harmony, dialogue, and accountability. We commit ourselves to enhancing the participation of women in every possible aspect of diocesan life, but especially in areas of leadership. We are a local church that invests in the development of all its leaders and ministers. We commit ourselves to provide leadership and ministry formation for lay persons in all parishes, and in particular, for men and women of our ethnic communities. Recognizing the centrality of Eucharist and the importance of consecrated life in our community, we will actively support and encourage vocations to the priesthood and religious life. These formation processes will be characterized by prayerful discernment, mentoring, supervision, and on-going formation. We will encourage new, creative models of ministry and leadership. We support all who work in the secular world and we challenge them to influence their workplace with gospel values. We will be attentive in providing these people with leadership skills and a workplace spirituality.
---
Organizational Structures
"Come to the Lord, the Living Stone rejected by people as worthless but chosen by God as valuable. Come as living stones and let yourselves be used in building the spiritual temple." (1 Peter 2:4-5)
In the new millennium our structures, the way we organize church life will foster an effective system of communication between families and the parish, among ethnic communities and cultures, among parishes, and between parishes and diocesan offices. Our structures will empower participation, promote networking, and facilitate collaboration. We will provide support and assistance for the development of parish clusters, to enable parishes to collaborate, share resources, offer mutual support, and address common Issues. Small faith communities will support our commitment to impact family, neighborhood and society. We will be open to creative models of parish life that are flexible, supportive and that respect the diversity of our diocese.