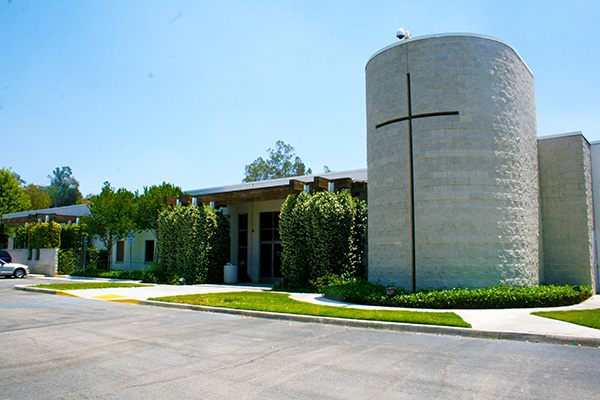 The Pastoral Center
The Diocesan Pastoral Center, located at 1201 E. Highland Avenue in San Bernardino, is a centralized facility that houses the office of Bishop Gerald Barnes and all diocesan ministries. The 55,000 square foot building contains offices and workspace for the diocese´s 130 employees, two large banquet rooms that host diocesan events weekly, two meeting rooms, an employee lounge and a chapel.
When the building opened in 1995, it was the first time in the Diocese's 17-year history that all departments (except for Catholic Charities) shared the same building. Today, with an increase in the number of diocesan ministries and, with them, employees, more of the center has been converted for office use. Future expansion of the Pastoral Center continues to be discussed to accommodate the need for additional meeting and event space.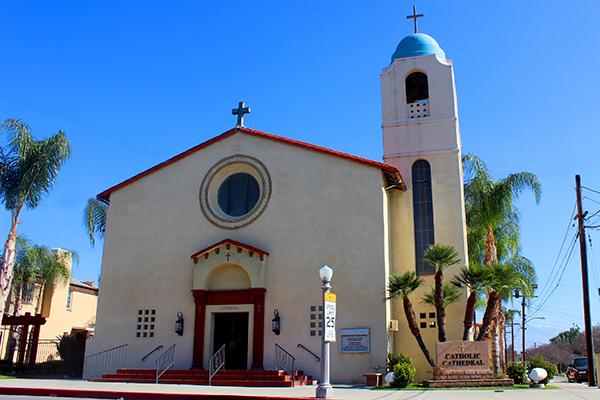 Founded in 1927 to accommodate the need for a new Catholic Church in north San Bernardino, Holy Rosary enjoyed a rich faith tradition that mirrored the evolution of the diocese.
It became Our Lady of the Rosary, the Cathedral Parish of the Diocese, in November 1978 after its pastor, Phillip Straling, became the first bishop of the Diocese. In addition to serving more than 1,500 registered families in San Bernardino, Holy Rosary also hosts numerous diocesan events including the Chrism Mass, Diocesan Awards Ceremony, Migration Mass and confirmation ceremonies.
Holy Rosary also includes a parish school, Holy Rosary Academy, built in the 1950s.
Demographic changes in San Bernardino brought young families into the parish, which responded with new programs for them. Community organizing programs helped improve the neighborhoods and clustering with other Catholic parishes in the city brought about a greater unity and sharing of resources.
Serra House
Saint Junipero Serra House of Formation is a Catholic seminary community in the Diocese of San Bernardino for young men who envision a ministry as priests. After years of existence in small and aged facilities in Riverside, the seminary community moved to a new 1.5-acre campus in the foothills of Grand Terrace in 2005.
Serra House includes 69,000 square feet of building including 22 dorm rooms, three additional guest rooms, a chapel, a library, a dining room and multiple classrooms/meeting rooms.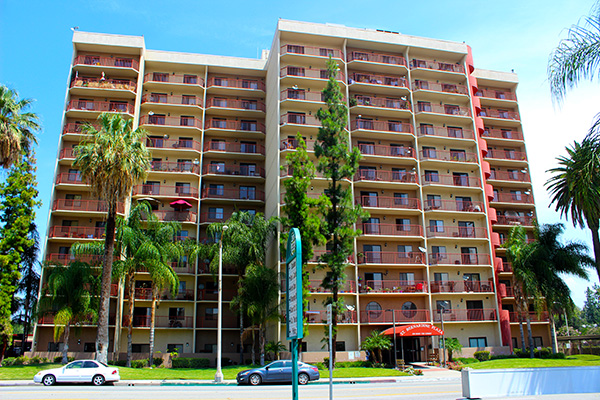 St. Bernardine Plaza is a modern 12-story apartment building designed especially for active senior citizens.
It contains 150 apartments, each with a living room, one bedroom, bath, kitchen, and private balcony. The first floor contains the building offices, a spacious lobby, a large recreation room, a crafts room, a comfortable library and a billiards room. There is a coin-operated laundry on the second floor and a card room on the 12th floor. Parking is limited.
St. Bernardine Plaza was made possible by the non-profit sponsorship of the Roman Catholic Diocese of San Bernardino, and it is owned by the St. Bernardine Plaza Corporation, a private non-profit corporation. It was financed under a program of the U.S. Department of Housing and Urban Development.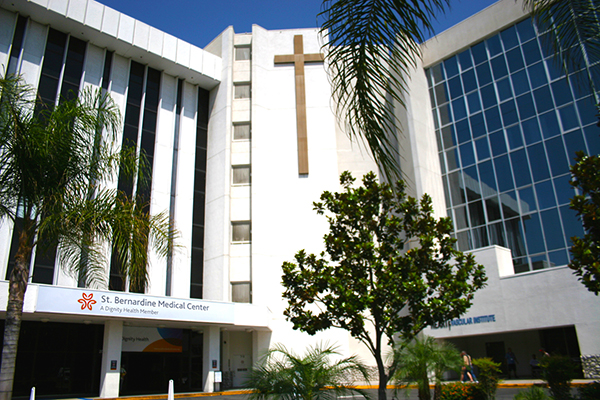 Catholic Hospitals
Healing as ministry goes back to Jesus himself.
Institutions dedicated to the care of the sick in the Diocese of San Bernardino, include St. Bernardine Medical Center, founded by the Sisters of Charity of the Incarnate Word, and St. Mary Regional Medical Center, operated by the Sisters of St. Joseph of Orange.
San Bernardino
St. Bernardine Medical Center
Douglas Kleam, Hospital President
2101 N. Waterman Ave.
San Bernardino, CA 92404
(909) 883-8711
Apple Valley
St. Mary Regional Medical Center
Marilyn Drone, Interim CE
18300 Highway 18
P.O. Box 7025
Apple Valley, CA 92307-7025
(760) 242-2311
Fax: (760) 242-9750
The Diocese of San Bernardino opened the Inland Empire's first and only consecrated burial site, Our Lady Queen of Peace Catholic Cemetery, in 2005. The cemetery sits on 30 acres in the City of Colton at 3510 E. Washington St. in Colton, near Reche Canyon Road.
Our Lady Queen of Peace offers the full spectrum of burial options including ground burial, lawn crypts, crypts and cremation niches in All Souls Chapel and Mausoleum and ground burial for cremated remains. The cemetery also offers private estates, bench estates and built-to-suit private mausoleums.