Founded in 1903, St. Thomas the Apostle is commited to the Gospel, empowered by the Holy Spirit and Strives to share the Good News.
View parish history
---
Ecclesial Staff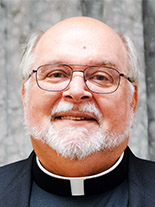 Pastor: Rev. Frank T. Dicristina

Mass Times
Weekend Masses:
Saturday: 5:00 p.m. 6:30 p.m. (Spanish)
Sunday: 7:00 a.m. 9:00 a.m. 11:00 a.m. 5:00 p.m.
Communal Annointing of the Sick: 2nd Saturday of the Month at 4:00 p.m.

Weekday Masses:
Monday - Friday 8:00 a.m.

Devotions & Holy Days
Holy Days: See Bulletin

Confessions
1st, 3rd and 4th Saturday of the month at 9:00 a.m.
2nd Saturday of the month in Spanish at 5:30PM in KDC