Founded in 2006, Blessed Teresa of Calcutta is a dynamic and diversified community worshipping the Lord and serving humanity.
Ver la historia de la parroquia
---
Personal Eclesiástico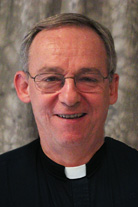 Pastor: Rev. Msgr. Tom Burdick

Parochial Vicar: Rev. Dominic Vu
Deacon Jose Ibarra
Deacon Efren Ramirez

Misas
Misas en los fines de semana:
34750 Whisper Heights Parkway Winchester, CA 92596:


Mass Times:
Saturday: 5:30 p.m. (English) 7:30 p.m. (Vietnamese)
Sunday: 7:00 a.m. 10:15 a.m. 12:00 p.m. Noon, 5:00p.m. (English)
8:30 a.m (Spanish)
.
Misas durante la semana:
Monday - Saturday 8:30 a.m.
Friday 6:30 p.m. (Spanish)

Devociones y Días Santos
Devotions:
First Friday Adoration: 8:00 a.m. - 11:30 a.m.

Charismatic Prayer Group: Wednesday 6:00 a.m. - 7:00 p.m.

Spanish Prayer Group: Friday 7:00 p.m. - 9:00 p.m.

Blue Army Rosary: Thursday 9:30 a.m. - 12:00 p.m.


Confesiones
Confessions:
Saturday 8:30 a.m.
After daily Mass by request, or at the office by appointment