Founded in 2006 with the combining of three parishes in San Bernardino, Our Lady of Hope is a community eager to merge traditions and begin new ones for the future.
Ver la historia de la parroquia
---
Personal Eclesiástico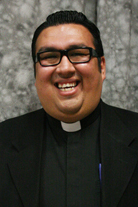 Pastor: Rev. Manuel Cardoza

Parochial Vicar: Rev. Toan Pham
Deacon Alfonso Martinez

Misas
Misas en los fines de semana:
Valencia Avenue location:
Sunday: 7:30 a.m (Spanish) 9:30 a.m. (Spanish)

Del Rosa Avenue location:
Saturday: 5:30 p.m. 7:30 p.m. (Spanish)
Sunday: 7:30 a.m. (Spanish) 9:30 a.m. (English), 5:30 p.m.(Spanish) 7:30 p.m. (Vietnamese)
*All masses are limited to 100 will be held outdoors
and you must bring your own chair (parish will not provide seating)
Misas durante la semana:
For the rest of June, there will only be weekend masses.
Devociones y Días Santos
Adoration of the Blessed Sacrament:
Del Rosa site: Mondays 7:30 a.m. - 8:30 a.m., First Fridays (Vietnamese) 7 p.m.
*3rd Friday of the month: 7:30 a.m.-7:30a.m. (at Del Rosa's Children's Chapel)
Valencia site: Tuesdays, 5 p.m. - 6:30 p.m., First Fridays (Spanish) 7 p.m.

Del Rosa site: First Saturday Blue Army Mass: 9 a.m. Confessions & Rosary, 10 a.m. Mass

Confesiones
Valencia Avenue location:
Tuesday / Thursday 5:00 p.m.

Del Rosa Avenue location:
Saturday 4:00 p.m.
*3rd Friday of the month: 7:00 p.m. - 9:00 p.m.


Valencia Avenue Location