Founded in 1970, St. Peter and St. Paul is on a journey towards the fulfillment of Christ's Kingdom that strives to provide a spiritual haven for all people without distinction.
Ver la historia de la parroquia
---
Personal Eclesiástico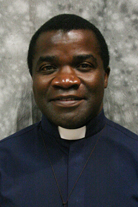 Pastor: Rev. Henry M. Sseriiso

Parochial Vicar: Rev. Adebisi Gabriel Michael Adedeji

Parochial Vicar: Rev. Juan M. Sandoval-Ochoa
Deacon John Barna
Deacon Robert Beidle

Misas
Misas en los fines de semana:
Saturday: 4:00 p.m.
Sunday: 7:30 a.m. 9:00 a.m. 11:00 a.m. 1:00 p.m. (Spanish)
5:00 p.m. (Life Teen)

Misas durante la semana:
Monday - Friday 7:30 a.m.

Devociones y Días Santos
Holy Days: As announced in the bulletin

Devotions: Eucharistic Adoration every Friday 8:00 a.m. for 24 hours
Benediction: Closing of Eucharistic Adoration on Saturday 7:45 a.m.
Eucharistic Adoration every Wednesdays from 8:00 a.m. - 8:00 p.m.

Confesiones
Thursday 7:00 p.m.
Saturday 8:15 a.m.