Founded in 1929, Our Lady of Solitude impacts the community by providing more than 20 ministries to meet people's needs and brings warmth to the area.
Ver la historia de la parroquia
---
Personal Eclesiástico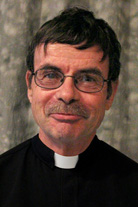 Pastor: Rev. David K. Foxen, M.S.C.

Parochial Vicar: Rev. Juan P. Romero, MSC

Misas
Misas en los fines de semana:
Saturday: Vigil Masses - 4:00p.m. (English) and 6:00p.m. (Spanish)
Sunday: 7:00 a.m. 9:00 a.m. (Spanish) 11:00 a.m. 5:30 p.m. 7:00 p.m. (Spanish)

Misas durante la semana:
7:30 a.m. Monday-Friday

Devociones y Días Santos
Confesiones
Saturday 5:00 p.m. (after the 4:00p.m. Mass) and by appointment.