Founded in 1954, Our Lady of the Assumption commits to reach out to her community with warm hospitality, strong ministries and vibrant liturgies.
Ver la historia de la parroquia
---
Personal Eclesiástico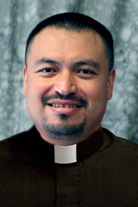 Administrator: Rev. Rogelio González
Deacon Mark Weber

Misas
Misas en los fines de semana:
Saturday: 4:30 p.m. (English)

Sunday: 8:00 a.m. (English) 10:00 a.m. (English) 12:00 p.m. (Spanish)
4:30 p.m. (Youth Mass)

Misas durante la semana:
Tuesday 6:30 p.m. Wednesday / Thursday / Friday 8:15 a.m.
First Friday Mass 6:30 p.m. Sacred Heart & Santo Nino Devotion

Devociones y Días Santos
Confesiones
Saturday Reconciliation with Exposition of Blessed Sacrament
9:15 a.m. - 10:30 a.m.